RCB3000 radio remote control
Browse the technical data sheet
Description
Control-panel-type high-performance secure transmitter designed to control any industrial machinery.
The RCB3000 is a freely configurable and high-quality wireless remote control.
Its design and the endless configuration possibilities allow all possibilities for machine control.
Ultra-compact, light and very robust housing, made of reinforced plastic for industrial use, very ergonomic housing, specially adapted for aggressive environments.
Emergency stop mushroom button, to ensure maximum safety.
Advantages
2 or 3 x 2-axis switches.
Up to 7 single axis switches.
Spring-back or fixed-position selector switches.
Standard push-button or with warning lights.
Binary functions up to 6 speeds by joystick.
Proportional analogue functions.
Customisable front panel and inscription.
Military quality mushroom emergency stop button.
Interchangeable NiMH battery.
Optional diagnostics and feedback LED.
Optional LCD graphics screen.
Exclusive system for changes of address, frequency, configuration through the buttons enabling rapid and secure interchangeability of the transmitters (one single reserve transmitter for several pieces of equipment).
---
Options
Transmission in bi-directional mode.
LED diagnostics and feedback.
7-Segment display, alphanumeric or colour graphic.
Identification key (rapid replacement of a damaged transmitter).
Master/slave Tandem system.
TCA27 secure start.
RECB or RCB7000-type receiver unit, can be connected via Profibus, Ethernet, Canbus, Profitnet or other fieldbus.
Accessories
Nylon protective cover.
Charger with JMei-designed microprocessor
Interchangeable NiMH battery.
Fixed power supply (12/24 V DC).
---
Applications
Lifting equipment (travelling crane, tower crane, gantry).
Handling equipment.
Quarry (crusher, rock breaker, conveyor belt).
All hydraulic controls (crane on lorry).
Mobile machinery (agricultural and forestry).
Civil engineering - buildings and public works.
Mining applications.
Maritime applications.
---
Production examples
Bi-directional RCB3000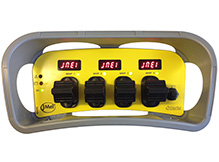 Radio remote control with LCD display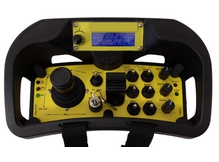 Remote control according to specifications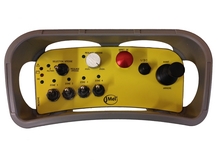 Analogue radio remote control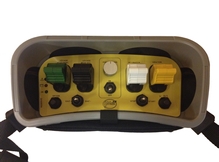 Nylon protective cover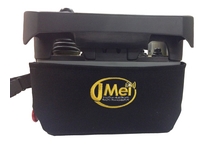 Radio remote control for shunters